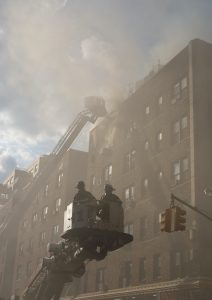 Smoke detectors are an excellent addition to your home for many reasons. First, it is necessary to ensure that any fire sources can be immediately detected. It is especially needed for small apartment units to prevent any potential accidents. It also helps in raising the value of the property which it is used for.
When choosing a smoke detector, you should know that variations of it exist in the market. This includes single-sensor, photoelectric units, dual-sensors, and more. Its pricing and features depend upon this.
Its quality is essential for ensuring that it lasts longer and that it can immediately respond in case of an emergency.
Also, these have a lot of additional features that go beyond simple smoke detecting. A great example is LED light alerts. Through this, you can install the unit near your fire exit, which helps in helping you see even if the room is full of smoke.
Here, we created a list of the top smoke detectors currently on the market. We analyzed its features, pricing, and quality to guide those who want to improve their homes.
Our first choice – Google Nest Protect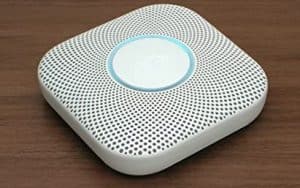 When it comes to home security and intelligent gadgets, Google has a lot of unique products. After all, the features they put into each one stand out among its competitors. It is easy to control because of its well-designed application. Because of this, users purchase many products from them, such as cameras, doorbells, and more.
Pros – Uses split-spectrum sensor
One thing that immediately sets it apart is its split-spectrum sensor, which allows it to detect fire molecules in the air even before it gets worse. Additionally, it can see carbon monoxide levels, removing the need to purchase a separate product.
Upon testing, we found its light and sensor alarm very easy to see and notice. Because of this, you are immediately notified in case a fire is present. In addition, it is quick to send notifications to your phone.
Pros – User-friendliness
Given Google's experience designing Android applications, user-friendliness is one of their expertise. This can be seen in Nest's app, as notifications are cleanly written and accessible here. Turning it off in case it creates a false alarm is a breeze.
It is also easy to view your other gadgets' video content through this, which is essential in case you also have Nest cameras installed.
To ensure your safety, it has a notification system for low smoke alarm batteries. You can be notified through your home's speaker and voice assistant if a fire is detected on your property. They have one of the best alarm systems for this, as it uses a calm voice, which makes you panic less during an emergency.
Pros – Good design
If there's something consistent with smoke alarms, it is that their design is not usually the best for most indoor styles, and it usually has a dull design.
Google's Nest has a better design than most competitors, as it feels more modern and straightforward. It has soft edges and a well-designed pattern. It also tells you its remaining battery level through a gentle light ring. It is motion sensitive, which is why it flashes white in case you are near (to notify you that it is functional). Finally, it turns yellow to red in case it detects smoke and fire.
Cons – High price
The only downside of the product is its high price of $119 for one unit, and this makes it very expensive for those who need to use it for multiple rooms in the house. After all, the average price for these products sranges from $40 to $70. Because of this, it is a significant investment you should consider before buying if you are on a tight budget.
The good news is that once you've bought the alarm, you can use its companion application for free. I
Our second choice – X-sense
X-sense is notable for the compact design that makes it blend in the room where it is installed. It has a simple circular design that makes it quickly go with the background. Furthermore, it is equipped with an intelligent detection chipset that detects smoke and fires quickly.
Pros – Good battery life
The unit comes with a Lithium battery that can last up to 10 years. Because of this, you won't have to think about the device that much once it is installed. To turn it on, you need to pull a plastic tab, which is convenient. To tell you that it is functional, it blinks now and then, which makes you more confident about your safety. This also gives you a real-time update on whether it currently detects smoke in the room.
Additionally, you can test whether its speakers are still working by pressing the Test button. You can make checking its functionality a regular part of your routine.
Pros – Easy installation process
To install it, you need to drill it on the wall using the bracket and screws that come with it. Because it is battery-operated, you won't need to fumble with many wires. Additionally, it comes with many instructions for properly installing the unit.
If you've bought multiple units, you can connect them using the Test button. It works similarly to Bluetooth, and it gives off a horn sound to tell you if the devices are finally united. Once it detects a fire, all the linked alarms will be turned on.
Cons – Delayed response
A downside we didn't like is that it is slower to activate than other smoke alarms we tried. This is after receiving smoke directly under the unit. This is also observed by other clients, with the average delay from a second to one minute. Because of this, you may not feel that secure about the alarm's quality.
Our third choice – First Alert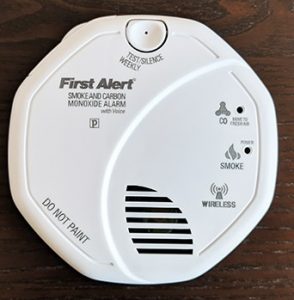 First Alert is an excellent choice because of its great detection technology. It uses a photoelectric sensor to detect smoke particles in the air. Through this, you can see fires before it gets worse.
It is paired with an affordable price tag, making it more accessible for different budgets. Because of this, it is easy to purchase multiple units for multiple rooms in the house.
Pros – Good features
The voice alarm can be programmable to detect where you should go in an emergency. It has a loud alarm, at 85 decibels, which helps in immediately notifying you about a fire.
It has a unique technology called the OptiPath, which allows it to detect smoke from all sides, and this helps in enabling it to see smoke quickly.
It helps that the alarm's warranty is extended, to ten years. Because of this, you can have more confidence regarding its quality.
Pros – Affordable
Another great thing about the unit is that it is affordable, taking the company's reputation and the product's quality into consideration. It is priced at $56 as a sole unit, almost half of Google Nest's smoke alarm. Because of this, the product is more budget-friendly and great for those who need many units installed.
Cons – Design
The only thing we didn't like about First Alert is its design, which is immediately noticeable because of its geometric ends. This can easily stand out badly in your kitchen, especially if you opt for a minimalist look.
Our top pick – Google Nest
The best overall pick is Google Nest's smoke alarm and carbon monoxide detector. It is the premier option because of its advanced features, well-designed application, and responsiveness. While it comes at a high price, it is worth every penny.
Aside from this, it is an excellent product to purchase if your house is already equipped with Google products. This is because each one is easy to link with the other.
Conclusion
In the end, Google Nest is the best option, especially if you have the budget for its premier price. It is user-friendly, easy to connect with other Nest products, and has many advanced features.
Next is X-Sense is an excellent choice because of its long-lasting battery life and easy installation process. It is also constant in providing updates about the room's air condition, which lessens your need to second-guess constantly.
Last is First Alert, which has a solid set of features and detection methods. It is notable for its use of the unique technology named OptiPath.