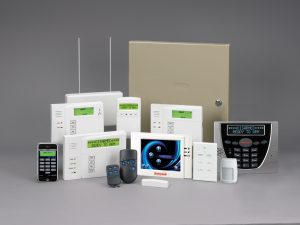 I'm sure you'll agree that home security is extremely important. But I think you'll also agree with me about this:
Choosing a home security system is tricky – it may even seem like an impossible task. After all, there are so many options to choose from!
But you'll be glad to know that picking a high-quality home security system doesn't have to be difficult. All you need is the right information.
That is why we created this ultimate guide to home security systems. After doing extensive research about the different types of home security systems and what each system has to offer, we've compiled a comprehensive guide to help you choose the ideal security system for your home and your family.
So, keep reading to find out what we discovered!
Best Home Security Systems 2017
1. Protect America – Best Overall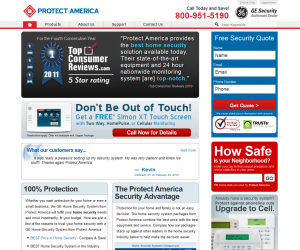 When it comes to protecting your family, you want a company they can trust that offers good value and reliable performance. Protect America has been a top choice for years due to their affordable pricing, customizable equipment packages, and their excellent performance. Packages start as low as $19.99 and can be customized to suit your needs whether you are renting a one-bedroom apartment, equipping a large family house, or protecting a vacation property.
Protect America has been serving the American public since 1992 and has protected more than 500,000 families. With award-winning service and customizable plan options, homeowners like you can choose exactly what equipment and monitoring option suits you best – all starting at $19.99 a month. With Protect America you can receive a free quote by phone or by visiting the company website – you can also speak directly with a customer service representative who will be happy to answer all your questions to ensure that you are making the right choice.
Pricing and Packages
Protect America currently offers five different plan options ranging from $19.99 to $54.99 per month. All packages include one motion detector, at least three window or door sensors, and a control console. Each package requires a 36-month contract and includes essential equipment, free installation, and no activation fee. The SMART Connect app is also available with broadband and cellular monitoring plans. In addition to their alarm packages, Protect America also offers plans for life safety, automotive protection, and automation.
Equipment and Technology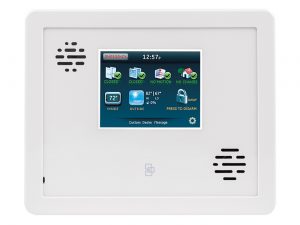 With five plans to choose from, Protect America gives you the option to select what kind of security equipment you want for your home. One motion detector and at least three window/door sensors are included with each plan, but you can add additional sensors and motion detectors for a fee. Other optional equipment that may be available includes surveillance cameras, garage door sensors, glass break sensors, mini pin-pads, keychain remotes, outdoor sirens, and smoke detectors. You can also upgrade to the Simon XT touchscreen control panel for an additional fee.
Installation and Monitoring
Landline monitoring ranges from $19.99 for the Copper package up to $42.99 for the Platinum package. Broadband monitoring ranges from $41.00 to $54.99, and cellular monitoring is priced between $41.99 and $54.99. Installation is free, and setup takes no more than an hour. You also won't be charged for basic equipment (depending which package you choose) and there is no activation fee. Monitoring is performed by Criticom Monitoring Services (CMS) to ensure that any time the alarm is triggered, the appropriate authorities will be dispatched quickly.
If you are looking for someone that offers zero upfront costs with plenty of options for plan customization, Protect America is a great option to consider. With no activation fees and free installation, setup is quick and easy. Protect America also offers a wide variety of equipment options to add to your chosen package as well as three different options for monitoring. Furthermore, this company has an A rating with the Better Business Bureau.
Pros
Complete 24/7 triple redundant monitoring
No installation fees, setup in 1 hour or less
Low price guarantee, locked-in rates for life
Low price guarantee, locked-in rates for life
Lifetime equipment warranty included
Cons
Cancellation is only available M-F and may require a fee
Only the basic control panel is included (fee for touchscreen)
Limited options for home automation plans
3-year (36 month) contract required on all plans
Check out our full Protect America review for more information.
2. Frontpoint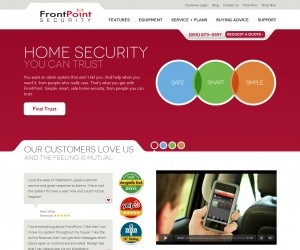 When it comes to plan flexibility and customer satisfaction, no one does better than Frontpoint Security Solutions. This company offers protection for homeowners, renters, and business owners with 12- and 36-month contract lengths and one free move. Frontpoint doesn't require any consultations or professional installations, which saves you money as well as time, though you certainly have the option to speak to a consultant to determine your overall needs. Simply choose the level of monitoring you prefer and select all your equipment to create a custom package that suits your needs. Monthly plan prices range from $34.99 to $49.99, and every plan comes with a 30-day risk-free trial.
Pricing and Packages
Frontpoint Security offers three different plan options: protection monitoring, interactive monitoring, and ultimate monitoring. The Protection Monitoring Package includes a $99 equipment and activation fee plus a $34.99 monthly fee for 36 months. The Interactive Monitoring Package requires a $199.93 fee for equipment and activation, as well as a $44.99 monthly fee for 36 months. The Ultimate Monitoring Package costs $49.99 per month with a 36-month commit and also requires a $199.93 equipment and activation fee.
Equipment and Technology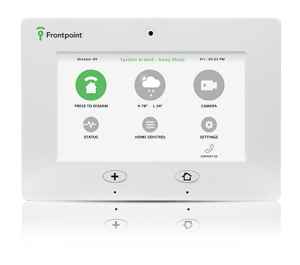 With each of their three package options, Frontpoint offers customers the ability to choose their control panel, the number of sensors, their contract term, and their monitoring method. Prices for equipment is clearly marked, and everything is covered by a 3-year warranty. Some of the equipment options Frontpoint has to offer include motion detectors, door/window sensors, glass break sensors, smoke detectors, wireless cameras, and keychain remotes. There are also options for home automation including automated door locks, light control, thermostat control, and the Alarm.com app.
Installation and Monitoring
Frontpoint offers three different monitoring packages, all of which are 100% cellular which reduces the risk of tampering. They also use a broadband connection as a backup in case cellular service is interrupted. The Interactive Monitoring Package allows users to control and interact with their security system remotely using the computer or mobile app – you can use to engage and disengage the alarm, turn lights on and off, and access security footage. The Ultimate Monitoring Package includes some home automation features including the ability to adjust the thermostat and lock or unlock doors. Monitoring services are performed by Rapid Response Monitoring out of a state-of-the-art facility located in New York. All installation for Frontpoint Security Solutions is offered on a DIY basis.
If you are looking for a brand that offers flexible protection plans for residences, rental units, and businesses, look no further than Frontpoint. Frontpoint may only be ten years old, but they are at the top of the list for customer service, and they seek to make improvements with each passing year. This company is incredibly transparent about their pricing and practices so, when you purchase a Frontpoint security system, you know exactly what you are paying for. As a bonus, Frontpoint has an A+ rating with the Better Business Bureau which, as a consumer, should give you peace of mind.
Pros
100% wireless equipment reduces the risk of tampering
Monitoring is 100% cellular, very safe and reliable
Mobile apps offer interactive remote control/home automation
Upfront pricing with no hidden fees, 30-day risk-free trial
Cons
Upfront costs are fairly high – you have to pay for equipment
Equipment warranty only lasts for 3 years (competitors have lifetime warranty)
Less established than many companies, only in business for 10 years
Check out our full FrontPoint review for more information.
3. ADT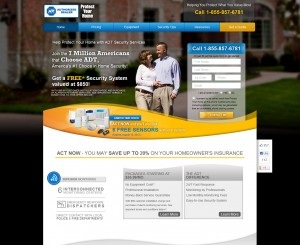 When it comes to home security, ADT is one of the biggest names in the business. Having been a security provider for more than 100 years, ADT has protected millions of homes and families. Though ADT offers some unique benefits with their packages, they are a little more expensive than some of the newer options on the market, and there are quite a few negative reviews out there. One of the unique features that ADT offers is their "Mover's Guarantee" which includes a comparable equipment package at no charge for your new residence so long as you've been an ADT customer for at least six months. ADT also offers a money-back service guarantee.
Though ADT does offer some unique products and is available all around the country, they have a history of poor customer service. Out of nearly 200 customer reviews on the Better Business Bureau website, an overwhelming 94% are negative. Many complaints have to do with the fact that ADT contracts out their installation and service calls to authorized dealers who are not directly employed by the company. They've also gotten into some legal trouble for hiring experts to provide endorsements.
Pricing and Packages
The price for ADT packages starts at $28.99, though prices may vary depending on where you live – you can only receive a quote by contacting the company. In addition to paying a monthly fee, you may also be charged a $99 fee for professional installation, though the equipment is often free with the exception of upgrades and add-ons. If you are looking for a company that offers transparent pricing without hidden fees, you should probably look elsewhere.
Equipment and Technology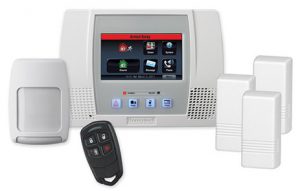 As was mentioned earlier, ADT is at the top of the list for technology. In addition to offering motion detectors, door/window sensors, and a base console with each package, ADT also offers monitoring for smoke detectors and carbon monoxide detectors. With ADT Pulse, you have the option to access and control your complete system via a smartphone app, and you will also receive a keychain remote. With the optional Home Control package, you can view live security camera footage, control your electronic door locks, open and close your garage door, and access your system via a smartphone. ADT is also unique in that they offer medical alert pendants as an add-on option.
Installation and Monitoring
ADT is one of the few companies that still offers landline monitoring, though most of their systems are cellular and completely wireless. There are monitoring stations all around the country to ensure 24/7 monitoring and fast response times. Professional installation is required and may cost as much as $99, though same-day appointments are frequently available. Installations are made by authorized dealers.
If you are looking for a company that will enable you to turn your abode into a virtual fortress, ADT might be the right choice, but you are going to pay for it. When it comes to security technology, ADT is unmatched – especially when it comes to automation. A home automation package from ADT includes remote security system access as well as control for your lights, thermostat, garage door, and door locks via your computer or smartphone. With more than 100 years' experience in the industry, ADT knows security and they have the A+ Better Business Bureau rating to prove it.
Pros
More than 100 years of experience, largest security company in business
Available 24/7 support by phone or email
Multiple monitoring centers throughout the country
Cons
Fee for an extended warranty, price is only available by phone
Installation and service is handled by authorized dealers
No pricing information available online, more expensive than competition
Check out our full ADT review for more information.
4. AT&T Digital Life Home – (Formally LifeShield)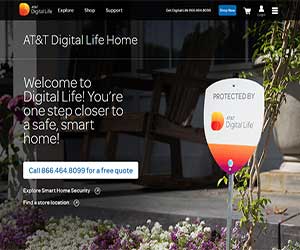 Though it was once completely separate, in 2013 LifeShield was bought by DirecTV and is now known as AT&T Digital Life Home. AT&T Digital Life Home is not the largest or the most modern company on the market, but they do offer some unique features. For example, AT&T Digital Life Home is very renter-friendly, especially with its simple DIY installation option. They are also one of the few brands that include smoke and fire protection with every plan – you can also add flood and freeze sensors for an additional fee. What customers like most about them, however, is their Interactive Security app which enables you to access and control your system from your smartphone or another web-enabled device.
Pricing and Packages
AT&T Digital Life Home currently offers four different packages ranging from $29.99 per month to $59.99 per month. Each plan comes with a DIY installation option, or you can pay $99.99 to have it professionally installed. The Security Basics plan is $29.99 a month and only includes two door/window sensors and a console – all other equipment must be purchased separately. Each of the other three plans – Security Essentials, Security Advantage, and Security Platinum Plus – include a motion detector as well as door/window sensors, keychain remote, and fire safety sensor.
Equipment and Technology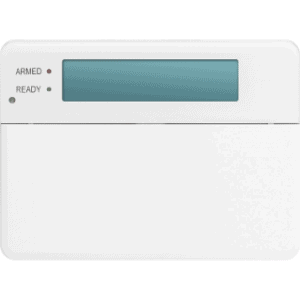 Though AT&T Digital Life Home isn't the most technologically advanced security company on the market, they do offer a variety of equipment options. Aside from the Security Basics plan, all plans include one motion detector, at least four door/window sensors, a keychain remote, and a fire safety sensor. The top two plans also include a wireless indoor camera (extra cameras cost $169.99 each). All plans come with the Interactive Security app and a contract length of 36 months. You can pay for additional equipment such as glass break sensors, smoke detectors, flood sensors, freeze sensors, and additional keychain remotes.
Installation and Monitoring
When it comes to installation for AT&T Digital Life Home systems, you can choose either the DIY option or pay $99.99 for professional installation. All their plans come with 24/7 monitoring provided by Protection 1 who work from five monitoring centers around the country. Each station features a triple redundant system which includes a primary system, a backup system, and a disaster recovery center. The Security Basics plan includes broadband monitoring with phone backup, but the other three plans come with both cellular and broadband monitoring with phone backup.
Since LifeShield was purchased by DirecTV, their service record has declined significantly. Although they don't have the best reputation when it comes to customer support, they do offer a wide variety of customer support options. Customer support hours are from 9 am to 10 pm EST Monday through Saturday and from 10 am to 9 pm on Sunday. LifeShield offers a 30-day money back guarantee, and all equipment is covered by a lifetime warranty with no charge for replacement. Simply put, if you are looking for a somewhat basic and affordable security system, consider AT&T Digital Life Home.
Pros
Affordable pricing, especially for cellular-based systems
No professional installation required, easy DIY setup
Comprehensive mobile control via LifeShield smartphone app
Smoke and fire protection is standard with every plan
Cons
Limited options for home automation compared to competition
Poor customer service reputation and F rating with the BBB
Some equipment is outdating or less advanced than the competition
Check out our full AT&T Digital Life review for more information.
5. Vivint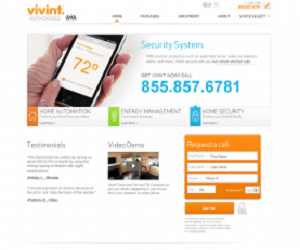 If you are looking for an alarm system that has all the bells and whistles, Vivint is the way to go. Vivint offers one of the most comprehensive home automation packages on the market including a camera doorbell that enables you to see who is at your door before you answer it. Unfortunately, Vivint has had a bit of a rocky history. The company was rebranded from APEX alarm some years ago and has recently gotten into trouble with the BBB for misrepresenting the value of equipment or services and for making unsubstantiated claims regarding energy savings and insurance costs. This company currently has a B+ rating with the Better Business Bureau due to these issues as well as some customer complaints.
Pricing and Packages
When it comes to their plans and packages, Vivint offers three choices. The Vivint Starter package costs $39.99 per month and may also include a $399 activation fee unless you have a promotion. The next package is the Smart Protect plan which costs $49.99 and has a minimum $99 activation fee. The Smart Control plan costs $60.99 per month and includes a minimum $99 activation fee. All three packages require a $99 professional installation, and there may be other charges for additional equipment.
Equipment and Technology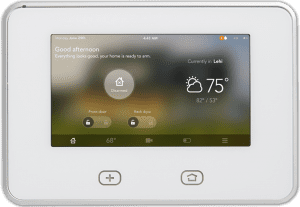 All Vivint home security plans come with a touchscreen panel plus three door/window sensors, one motion sensor, a smoke detector, a key fob, and a yard sign. The Smart Control plan also includes up to two Smart Home devices as well as Space Monkey, a cloud storage unit. For an additional fee, you can add extra equipment to your plan such as recessed door sensors, glass break detectors, carbon monoxide alarms, and medical pendants. Smart Control home automation equipment options include a smart thermostat, lighting and small appliance control, fixed video camera, pan and tilt video camera, and electronic door lock.
Installation and Monitoring
One of the biggest downsides of Vivint's options is that they require a professional installation and that often comes with a $99 installation fee, though there are sometimes offers for free installation. Vivint offers 24/7 continuous monitoring, all of which is cellular – Vivint does not provide any other options for monitoring. As an additional precaution, Vivint offers a safety service through their website that allows you to verify that when a service rep comes to your home, he is a Vivint employee.
Compared to their competitors, Vivint is more expensive on the whole, but they also offer a unique array of equipment and technology options. As for the basic equipment included with every package, not many companies offer a touchscreen panel (at least not without an upgrade fee), and many companies make you pay extra for a key fob. Vivint is also near the top of the list for home automation. When it comes to their customer service, however, Vivint is not at the head of the list. In addition to having more limited customer service hours than other companies, Vivint also has a bad reputation for aggressive sales representatives – they even use door-to-door sales tactics in some areas.
Pros
Excellent smartphone app for system monitoring and alerts
Lifetime equipment warranty for all plans
Cellular monitoring included in all plans, wireless systems available
Two-way voice between the console and monitoring station
Cons
Very expensive compared to most security systems
Frequent complaints about poor customer service
Higher upfront costs due to required professional installation
May require a contract length of 5 years
Check out our full Vivant review for more information.
Comparison Chart
Shopping for a home alarm can be overwhelming because there are so many options available now than before. If you've taken the time to compile a checklist, you should already have some idea what kind of features you need. All you have to do now is pick a company that suits those needs! Below you will find a comparison chart of our top-rated security alarms to help you make a smart choice for you and your family:
Why is Having a Home Alarm Important?
No matter where you live, you want to feel like you are safe in your home. But the harsh reality of the modern world is that anyone can become a target for violence. It is estimated that as many as 2.5 million home intrusions occur in the United States each year, and burglars seem to target renters and homeowners at similar rates.
If you think that your home isn't a likely target for burglary or invasion, you might be right, but you could also be very wrong. You may be surprised to learn that as many as 65% of residential burglaries occur during the day and, in many of those cases, the burglary happened when a member of the household was at home.
Do these statistics shock you? They should! They should open your eyes to the importance of home security. A burglary occurs in the United States every 13 seconds – are you and your family protected, or will you become one of these statistics?
Protection against burglary and theft is not the only reason to have a home security system. It will also be linked to your home's fire alarm system which could significantly reduce the emergency response time in the event of a fire.
According to statistics released by the U.S. Department of Justice, the national average for police response time is around 11 minutes. The national average for the time it takes between a home security system alarm To and the arrival of authorities, however, is closer to 7 minutes.
How much can happen in four minutes? You probably don't want to find out.
If you want to make sure that your home is as secure as possible and that you can get help quickly when you need it, you should seriously consider investing in a home security system. Keep reading to learn more about what exactly a home security system entails and to review your options.
What Exactly is a Home Security System?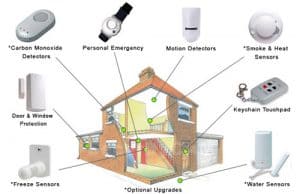 Even if you don't know exactly how one works or what it involves, you can get a pretty good sense of what it is just from the name. A home security system is simply a system of various devices and networked components that can be used to secure a home. This primarily involves alerting the homeowner to an intrusion and contacting emergency services in the event of an invasion or a fire.
They come in a variety of forms and include various components. Some of the most common components included are:
A control panel used to monitor the system
Sensors that go off when a door or window is opened
Motion detectors, both exterior and interior
Security cameras, wired or wireless
A loud siren or alarm to alert the homeowner
Window stickers and yard signs indicates the presence of a system
All the components work together to serve several important purposes. One of the main goals of having an alarm is to deter criminals from attempting to break into the property in the first place – this is accomplished by having yard signs and stickers in the windows to tell potential burglars that the home is protected. Another purpose that they fulfill is notifying the homeowner of a threat, whether it be smoke from a fire or an indication of invasion. Finally, they can also contact emergency personnel so they can be dispatched to the property as soon as the threat occurs.
To understand the benefits of having a burglar alarm, it might help to learn exactly how one works. Here is a breakdown of what usually happens when a home alarm is triggered:
An alarm sounds when one of the sensors is triggered (smoke detector, window/door sensor, motion detector, etc.).
The system automatically sends an alert to the monitoring company, even if you use the keypad on the control panel to disable the alarm.
The monitoring company calls the phone number attached to your account to verify the legitimacy of the alarm.
If it is a false alarm, the monitoring company will mark it as such, and no response will be initiated.
If you verify the emergency or the company is unable to contact you, they will dispatch emergency personnel to the property.
Help arrives at the property, and the proper actions are taken to resolve the crisis.
You must keep in mind that different security systems work in a variety of ways. A monitored system is managed by an alarm company who receives an alert if the alarm in your home is triggered. With non-monitored systems, you don't get the advantage of having the authorities called on your behalf – the system simply alerts you to the threat so you can take action. You will learn more about the different types of home security systems in the next section.
Exploring the Different Types of Systems
Now that you know the basics about what a home alarm system does, you will be able to understand the differences between different kinds of systems. While they come in all shapes and sizes, there are four main types: monitored, unmonitored, wireless, and wired. Below you will find an explanation of each option:
Monitored Alarm System – This is the most common type of home security system, and it comes with many options for customization. The main benefit of this kind of system is that a professional monitoring company is automatically contacted each time the alarm is triggered. This means that if an emergency happens when you are not at home, emergency response personnel will still be sent out to the property to address the issue. Unfortunately, this kind of alarm system gives an intruder ample time to get in and get out before emergency personnel arrives because the company will first try to contact the homeowner to verify the emergency.
Another thing you need to consider about monitored alarm systems is that they are usually connected to your home's phone line. If a savvy burglar cuts the home phone line, not only might your alarm fail to go off, but the authorities will not be contacted on your behalf. One way to work around this problem is to connect your alarm system to a cell phone instead of a landline. There are many options to customize this type of home alarm system, but that also makes it one of the more expensive system types.
Unmonitored Alarm System – This type of equipment relies on motion detectors and window/door sensors to detect an intrusion and smoke alarms to detect a fire. The difference is that, with an unmonitored system, all that happens is that the alarm goes off. If you are at home to hear the alarm, you can just turn off the system if it is a false alarm or contact the authorities if it is a real emergency. If you are not at home, however, you'll have to rely on one of your neighbors to hear the alarm and to make the call.
While an unmonitored system may not result in as quick a response time as a monitored system, it is a much more affordable option. In the event of a home invasion, the alarm itself is often enough to drive the intruder away. With a fire, however, someone will still need to contact the fire department to issue a response. If you live close to your neighbors and have a positive relationship with them, that option could work out just fine. You just have to decide if you want to rely on someone else when it comes to the security and safety of your home.

Wireless Alarm System – If you are looking for DIY, a wireless alarm might be a good option. While some companies offer wireless systems, they are often the kind of system you install and monitor on your own. A wireless alarm keeps track of various sensors and devices that you can monitor and control using a control panel. You can use magnetic sensors for windows and doors, beams to detect motion, and security cameras to capture video footage. Simply put, a wireless alarm offers excellent options for customization.
Although a wireless alarm system is easy to customize, it can sometimes be tricky to maintain. Because the system is not hardwired, you have to be mindful about the distance between the sensors or other devices and your control panel. You may also need to replace batteries frequently to keep the system working. If you make a mistake, the system might not operate properly, and you may have to pay someone to come out and fix it for you. Depending on what you are looking for in a home security system, however, a wireless alarm system might be perfectly adequate to meet those needs.
Wired Alarm System – If you purchase a new home that has been built within the past decade and it comes with a security system, it is probably an electric current alarm system. With this type of equipment, there is an electrical current running through your home, connected to sensors on your windows and doors. Each time a door or a window is opened, the security system will beep to alert you – if the security system is engaged, it will sound an alarm. This type of system is great if you want to protect your home against burglary and also keep an eye on children or pets to make sure they don't leave the house without you knowing.
Another benefit of an electric current system is that it can be customized with various monitoring and detection devices. You can control this type of alarm with a standard control panel unit which also allows you to see exactly where the alarm was triggered when it goes off. You can also add things like motion detectors to the system for an added layer of protection when you aren't at home. The downside to this type of system is that other electrical currents can sometimes interfere with the system – this is frequently the case with lightning strikes.
A home alarm can be as basic or as comprehensive as you want it to be. If you just want to know when someone opens a door or window in your home, a simple wireless alarm system might be perfectly adequate. If you want to incorporate video security or control other aspects of your home's operation such as lighting and heating, you ought to consider a fully automated system. Later in this article, you will learn about the things you should be looking for in a home security system to help you make your choice.
Home Security System Pros and Cons
By now you should have a pretty good idea whether a burglar alarm is the right choice for you and your family. Before you officially decide to invest, however, you would be wise to consider both the pros and cons:
Pros
Having an alarm gives you peace of mind knowing that the authorities will be contacted in the event of an emergency (response time varies depending on the type of system you choose).
With a monitored system, you will be notified if the alarm is triggered when you are away – you can connect the system to your cell phone to make sure.
Simply having an alarm can help to deter burglars from targeting you (as long as you use window stickers and yard signs to advertise your system).
Depending on the type of system, you will be alerted any time someone enters or exits your home, whether through a door or a window – this is beneficial for families with small children and pets.
Equipment comes in various forms with many options for customization to give you as much protection as you like.
Choose from a variety of technology and monitoring options including wireless installation, window/door sensors, motion detectors, smoke detectors,

surveillance

cameras, and more.
Many systems allow you to use mobile monitoring so you can access and control the system when away – you can even view a video if you have a camera system.
Cons
The presence of an alarm will not always be enough to deter a burglar – professional criminals know how to get around one and will get in and get out before authorities arrive.
Your fancy alarm won't do you any good unless you kept it on and activated (for most systems, however, the smoke detectors will always be on and separate from the intrusion alarm).
If you don't have a monitored system or if you miss the dispatcher's call, the authorities might be contacted even in the event of a false alarm, and you may be charged a fee.
Some can be very expensive (especially monitored systems) – in addition to the cost of installation and equipment, you may also be charged a monthly fee.
You may be held responsible for the cost of repairs if your system breaks down – most monitoring companies replace faulty equipment but if the damage is your fault, they may not.
Installing a DIY system sometimes seems easier than it is – if you make a mistake during installation, it might not work properly.
If you choose an unmonitored alarm, you may have to rely on your neighbors to notice that it is going off and to call the authorities if you aren't at home to do it.
Things to Look for in a Home Security Alarm
When you make the decision to start shopping for a home security alarm, you may find yourself wondering where to begin. If you perform an internet search you'll receive thousands, even millions of results. So how do you sift through all the options to find the system that is right for you? If you are shaking your head, wondering how you are ever going to choose a home security system, you'll be glad to know that we're here for you! Below you will find a comprehensive list of things to look for.
Pricing and Packages – When it comes to pricing you need to think about cost as well as value. Keep in mind that different types of systems will come with different associated costs. For example, an unmonitored DIY system may only cost as much as the equipment, especially if you plan to install it yourself. With a monitored system, however, you may not be charged for installation, but you will likely be charged a monthly fee. You should also keep an eye out for hidden fees such as installation costs, cancellation fees, initiation fees, and the cost of optional equipment. Only if you consider all the associated costs can tell which option is going to be the most cost-effective way to meet your needs.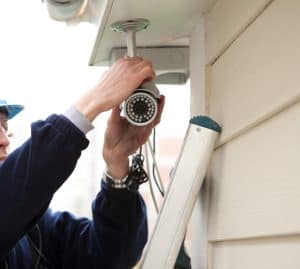 Installation Options – Aside from pricing, one of the biggest factors you need to consider when shopping for a home alarm is the installation options. For the most part, you have two choices – professional installation or DIY installation. In the early days of whole-home security systems, your only option was to call a professional security company and have someone come out to look at your home and then give you an estimate on the cost of the system as well as the cost of installation. From there, you would have to schedule a service appointment which would take several hours, requiring the installer to run wiring throughout your whole home to get the system up and running. While this is certainly still an option, modern systems are faster and much easier to install.
Even though modern security systems are less complicated to install, that doesn't necessarily mean that installing it yourself is the best option. Whether you go with professional or DIY installation largely depends on the type of system you choose. If you pick a monitored system, the installation of window/door sensors, smoke alarms, and motion detectors may be relatively straightforward, but it can sometimes be tricky to install the control panel and to make sure that all the various parts are connected and working properly. This is particularly the case for systems that include video surveillance. If you choose to go with an unmonitored or wireless alarm system, however, the DIY option might be more viable. In fact, you can purchase a home security system in a box that includes everything you need to secure your home as well as instructions for installation.
Equipment and Technology – When you think about a home security system, you probably picture a numbered keypad mounted on the wall. While this is still one of the most popular methods for controlling a security system (especially a hard-wired system), there are other options to consider. In fact, some home security companies have gone completely mobile, turning your smartphone into the central hub to control your system. When it comes to home security systems, each company has different options, and many of them are optional. These options allow you to customize according to your needs and desires. Here is a summary of some of the equipment and technology you may encounter when researching home security systems:
Keypads – These are used to control the system, and they may be either traditional or touchscreen. With this keypad, you can arm or disarm the system, check which zone triggered an alarm, and automate certain processes.
Sirens and Alarms – This is the alarm that goes off when the system is triggered. The alarm should be loud enough to be heard from outside the home and shrill enough to send an invader running. Some systems also incorporate flashing lights so that neighbors can pinpoint where the alarm is coming from so they can contact the authorities.
Entry Sensors – These are the sensors used on doors and windows which notify the system when they are opened. These sensors usually consist of two pieces connected by a magnet – when the connection is broken, the alarm is triggered.
Motion Sensors – These sensors can be placed throughout the exterior and interior of the home, and they can be used to create an invisible barrier that, when breached, triggers the alarm.
Surveillance Cameras – These come in both wired and wireless forms and can be utilized for several purposes within a home security system. A camera can be used to monitor part of your property that's hard to reach including remote buildings like workshops or garages. They can also be used to monitor activity near key entry points such as the front or back door.
Glass Break Sensors – This type of sensor is different from a traditional window sensor in that it can detect a break in the glass. A burglar might not force a window open, but he could break the glass to gain entry – these sensors trigger the alarm if that should happen.
Smoke Detectors – In addition to protecting your home against invasion, a home security system should also include protection against fire. There are two types of smoke detector. An ionization detector which contains a chamber full of ionized particles – when smoke enters the chamber, the ionization is disrupted, and the alarm is triggered. A photoelectric smoke detector includes a LED that projects across the top of the chamber which contains a photocell – when smoke enters the chamber it scatters the light so that it hits the photocell, triggering the alarm.
Carbon Monoxide Detectors – Many home security systems offer carbon monoxide detection as an add-on option. Carbon monoxide is a deadly gas that is impossible to detect by sight, taste, or smell and it is caused by the failure of fuels to burn completely.
Automation and Mobile Access – Many modern home security systems offer options for automation and mobile access. Even if your home security system is controlled by a traditional wall-mounted keypad, the company might offer a mobile app that allows you to monitor your system. You might also be able to use your smartphone to arm or disarm the system. Some of the more expensive home security systems also offer options for home automation – you may be able to remotely control other aspects of your home using your smartphone. For example, you might be able to view prerecorded or live video surveillance from your smartphone – you might also be able to adjust your thermostat, control lighting, or even turn appliances on and off. If you don't mind paying a little more and you want to keep an eye on your home when you are away, mobile access and home automation might be things that you should consider when shopping for a home security system.
Monitoring – As you well know by now, one of the main things that differentiate the various options in home security is monitoring. Some people are of the mind that having the ability to monitor your property is the whole point of getting a home security system. For others, however, it is more about the peace of mind that comes with knowing when and where people are entering or exiting your home. If you think about it, however, the difference between monitored and unmonitored systems is critical – it could even make the difference between life and death. With a monitored system, each time the alarm is triggered (whether by fire or invasion), the system sends an alert to the monitoring company. The company then places a call to the phone number attached to the account to verify the emergency. If the homeowner confirms the emergency, or if the company is unable to contact them, emergency personnel will be notified and dispatched to the property.
The cost of a monitored home security system is significantly more than that of an unmonitored system. With an unmonitored system, you may only pay for the expense of the equipment and the installation, unless you install it yourself. With a monitored system, however, you may be required to sign a contract, and you will be charged a monthly fee in exchange for monitoring services. While an unmonitored system is less expensive, it does come with certain risks. For example, if you aren't home when the alarm goes off, you won't be notified. If it is a false alarm, you could be charged a fee by the police and/or fire department for wasted time. If the emergency is real, you have to rely on the pertinence and goodwill of your neighbors for someone else to call the police or the fire department on your behalf. Monitored systems have faster response times than unmonitored systems – it is just a matter of what level of risk you are willing to assume and what you are willing to pay for.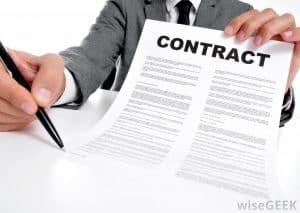 Contract vs. No Contract – If you have a cell phone or pay for cable television, you are probably familiar with service contracts. Depending on your experience with them, you may not have any problem signing a contract, or you might want to avoid them like the plague. Before making a decision, either way, you should think about the pros and cons of both options. What it comes down to is monitoring. Most home security systems that are monitored by a professional monitoring company charge a monthly fee for the service, and they require you to sign a contract as well. The length of the contract may vary from one to three years, and the cost for the equipment and installation is frequently amortized into the monthly fee. Signing a contract can save you a lot of money upfront, but it does come with a certain degree of obligation. You may have a hard time breaking the contract and, even if you can, you'll likely pay at least 75% of the remaining cost to cancel.
One of the main benefits of DIY home security systems is that you can purchase the equipment outright and install it yourself – this enables you to avoid signing a contract. Going with a DIY alarm system doesn't necessarily mean you forfeit the right to 24/7 home security monitoring – it just means that you may have to do a little more research to find a company that offers this service. Some companies offer month-to-month subscriptions with no cancellation fees, though you may be charged upfront for the cost of the equipment. This option is particularly attractive to people who rent rather than own their homes. When deciding whether to go with a contract or no-contract company, consider how long you plan to live at your current residence and whether it is more important for you to save money up front by signing a contract, or paying for the equipment in exchange for a lower monthly fee and no contractual obligations.
Customer Service – When you purchase equipment and pay for a service, you are also paying for support – at least, you would think so. The truth of the matter is that the best home security monitoring services have the best customer service, but this is not always the case. As you start shopping around for a home security system, you should factor in customer reviews of the company itself as well as the quality of their customer service. Don't just trust the testimonials posted on their website, either – read reviews from an unbiased source like Yelp, or the Better Business Bureau's (BBB) website. It also doesn't hurt to check the company's BBB accreditation status and rating.
When it comes to customer service, there are a few things you should consider. Most importantly, you want to choose a company with a fast response time when an alarm is triggered – this applies specifically to monitored systems. It is also important, however, to make sure that the company offers accessible and reliable non-emergency help for issues like technical support, installation, and repairs. Some companies only offer telephone customer service while others offer online chat or email support. You should also check to see if the company's website offers instructional videos and other informative content such as FAQs or blog posts. You want to know that the firm you choose is going to be there for you when they need them, in whatever form that need may take.
Every home security system is unique. The option that is right for your home and your family may not be right for someone else, and that is perfectly fine! The trick is to consider your options and decide which features are the most important to you. Once you have decided what you are looking for in a home security system, all you have to do is find a system that meets those needs! The comparison chart in the next section will help you do that.
Frequently Asked Questions
By now you should have a more thorough understanding of home security systems, including the various options that are available to you and your family. As you start your search, however, you may find that you still have questions – that's why we've compiled a helpful list of FAQs below:
Q: How much does a home alarm cost?
A: The cost for a home security system varies according to multiple factors. If you choose a DIY system, you may have to pay for the cost of the equipment but can save on the cost of installation by doing it yourself. A security system that comes with professional monitoring may also come with a monthly fee, though you often get free equipment and/or installation of these systems. You may also need to factor in hidden fees like cancellation costs and the cost of additional equipment.
Q: What features should I look for in a home security system?
A: Each system is unique, and one that is right for you may not be right for someone else. When it comes to shopping for a security alarm system, some of the best features to look for include the following:
Affordable monthly fee (for monitored systems)
Free or DIY installation
24/7 professional monitoring
Door/window sensors
Smoke and carbon monoxide detectors
Video surveillance
Remote control via smartphone
Home automation options
Q: Is monitored better than an unmonitored?
A: There is no short answer to this question because a monitored system might be the right choice for some but the wrong choice for others. If you want to have peace of mind knowing that the authorities will be contacted if you are not at home and cannot be reached, a monitored system will give you that peace of mind. At the same time, a monitored alarm is more expensive than an unmonitored system and you may be required to sign a contract.
Q: Do I have to have a home security system installed professionally?
A: While some home security companies require the system to be installed by a professional, many companies offer DIY installation as an option. If you choose an unmonitored or wireless alarm system, the chances are greater that DIY installation will be an option.
Q: Do home security alarms offer mobile control and monitoring?
A: Remote control and mobile app monitoring are becoming more and more popular which also means that more companies are starting to offer these options. You may have to pay more for the privilege, but most companies offer a mobile application – some even offer a smartwatch app.
Q: Can a home security system do more than just detecting burglars and fires?
A: Yes, a security system can also be a complete home automation system. Many security systems will now allow you to tap into live or prerecorded video surveillance and may also enable you to lock and unlock doors using your smartphone. Many security systems that offer home automation services allow you to control the lighting, the thermostat, and even the sound system in your home.
Q: Will having an alarm save me money?
A: There are some ways in which a home security system might save you money. For one thing, having a security system in place may be enough to deter the average burglar who might seek to invade your home, stealing valuables and doing damage to your property. A home security system can also alert you to a fire in time to call the fire department, reducing the amount of damage and the cost of repairs. Having a home security system could also get you a discount on your home owner's insurance – you can save as much as 20%.
Q: Can a burglar disable my home alarm?
A: Depending on the type of system you have, it may be possible for a thief to turn off the system and enter your home. The risk is higher for older security systems with landline monitoring. Most newer ones are wireless or cellular, however, which makes them harder to disable.
Q: What if I live in a safe neighborhood?
A: Even if you reside in an area that you consider safe, there is always the potential that your home will be targeted for burglary. You also have to remember that a home security system does more than just protect you against home invasion – it also monitors for smoke, carbon monoxide and, in some cases, flooding.
Q: Can I take my equipment with me if I move?
A: When shopping for a burglar alarm it is important to take your living situation into account. Many companies offer equipment for renters as well as homeowners, though your options as a tenant may be a little bit more limited. Some do, however, offer one free move for their customers. Just be sure to do your research before you decide if you think that a move might be in your family's future.
Related Guides: