Table of Contents
Are you in the market for a home security system but overwhelmed by the number of options available? ADT is one of the most well-known names in home security, but how does it stack up against its competitors?
In this article, we will provide a comparative analysis of ADT and other popular home security solutions to help you make an informed decision. We will start by examining smart locks and video doorbells, which are becoming increasingly popular as standalone devices or as part of a larger home security system.
Then, we will dive into full-home security systems offered by ADT and its competitors, comparing features and pricing to determine which solution offers the best value for your money. Finally, we will take a look at customer feedback and user experience to give you an idea of what it's like to use these systems on a day-to-day basis.
By the end of this article, you'll have all the information you need to choose the right home security solution for your needs.
Smart Locks and Video Doorbells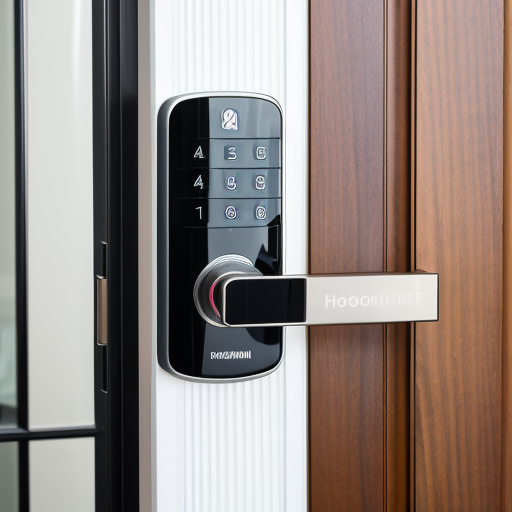 Picture yourself walking up to your front door and being greeted by a sleek, modern smart lock with a built-in video doorbell that allows you to see and speak with whoever is at your doorstep from anywhere in the world. This is what ADT offers as part of their home security solutions, which sets them apart from their competitors.
With integration capabilities and an easy installation process, ADT's smart locks and video doorbells are top-notch. ADT's smart locks seamlessly integrate with their home security systems, allowing for remote control access through an app on your phone. The video doorbell provides clear visuals of who is at the door, even in low-light conditions. Additionally, it has two-way audio communication that lets you talk to visitors without opening the door.
Installation is quick and easy. Customers can either choose a professional installation or do it themselves using step-by-step instructions provided by ADT.
Full-Home Security Systems
You're probably curious about the different options available for protecting your entire home, and like a discerning chef selecting ingredients for a gourmet meal, you want to carefully consider which system will provide the best blend of features and affordability.
Full-home security systems offer comprehensive protection from intrusion, fire, carbon monoxide poisoning, and other potential hazards. ADT's full-home security system is designed to integrate with their smart locks and video doorbells, providing a seamless experience that allows you to monitor every aspect of your home's security from one convenient app.
When it comes to the installation process, ADT offers professional installation services that ensure your system is up and running quickly and correctly. Their trained technicians will assess your property's unique needs and recommend the best placement for sensors and cameras. Additionally, they'll walk you through how to use the system's various features so that you feel confident in its operation.
While some competitors may offer DIY installation options, investing in professional installation can save you time and frustration down the road. Overall, ADT's integration options and professional installation make them a strong contender when it comes to full-home security systems.
Features and Pricing Comparison
Now it's time to check out the exciting features and pricing options of ADT and its competitors in the home security market.
Regarding installation, ADT offers professional installation services, which can cost anywhere from $99 to $199 depending on the package you choose. On the other hand, SimpliSafe and Ring Alarm systems offer easy DIY installations that take less than an hour to set up. However, if you're uncomfortable setting up your own system, both companies also offer professional installation services for an additional fee.
Regarding mobile app integration, all three companies have their own apps that allow you to control your system remotely.
ADT's mobile app is called 'ADT Control' and is available for iOS and Android devices. It allows you to arm/disarm your system, view live video feeds from your cameras, receive alerts when something happens at home, and more.
SimpliSafe's app is called 'SimpliSafe Home Security' and is also available for iOS and Android. It offers similar features as ADT's app but also includes a panic button feature that sends emergency responders straight to your location if activated.
Finally, Ring Alarm's app is called 'Ring – Always Home' and is also available for iOS and Android. In addition to arming/disarming your system remotely, it also allows you to communicate with visitors through the built-in speaker/microphone in Ring Video Doorbells or Cameras.
Overall, all three companies offer robust mobile apps that make managing your home security system a breeze!
Customer Feedback and User Experience
Oh, great! Another section on customer feedback and user experience – because you can't get enough of hearing about other people's problems with their home security systems. But let's face it, this is one of the most important factors to consider when choosing a home security solution.
ADT has been around for over 140 years and has amassed a large customer base, which means there are plenty of reviews and opinions out there. In general, customers seem to be satisfied with ADT's installation process, although some have reported issues with scheduling appointments or delays in service.
Regarding customer support, ADT also seems to have a solid reputation. They offer 24/7 support via phone or chat and have received positive reviews for their responsiveness and helpfulness. However, some customers have reported long wait times or unhelpful representatives, so your experience may vary depending on the specific issue you're dealing with.
Overall, it seems that ADT takes its customer support seriously and strives to provide prompt and effective solutions to any problems.
Frequently Asked Questions
Do ADT's competitors offer any unique features that ADT doesn't?
When it comes to unique features comparison and competitor advantages, ADT's competitors certainly have some offerings that the company doesn't.
For example, SimpliSafe offers a wide range of customizable equipment packages, allowing customers to build their own systems according to their needs.
Frontpoint offers wireless monitoring with cellular backup, ensuring that your system stays connected even if your internet goes out.
Meanwhile, Vivint offers smart home integration with voice commands through Amazon Alexa and Google Assistant.
These are just a few examples of how ADT's competitors are innovating in the home security market.
However, it's important to note that ADT also has its own unique features and advantages, such as professional installation and monitoring services with an extensive network of response centers across the country.
Ultimately, when deciding on a home security solution, it's crucial to carefully consider each company's specific offerings and determine which one best fits your needs and budget.
How long does it typically take for ADT or its competitors to install a full-home security system?
Imagine finally deciding to invest in a home security system after months of contemplating. You want to feel safe and secure, and you want the installation process to be smooth and efficient.
When it comes to installation time, ADT and its competitors vary in their timelines. On average, most companies take around 2-4 hours for installation, while others can take up to a day or more. However, as important as speed is, customer satisfaction matters just as much.
It's essential to choose a company that installs quickly and ensures that all components are properly installed and work correctly before leaving your premises. Therefore, it's crucial to do thorough research before deciding which company is best suited for your needs when it comes to installation time and customer satisfaction.
Are there any additional fees for monitoring services or equipment rental not mentioned in the pricing comparison?
When considering home security solutions, it's important to be aware of any potential additional fees or hidden costs that may not be immediately apparent. These could include monitoring services or equipment rental charges that weren't mentioned in the initial pricing comparison.
To avoid surprises, it's crucial to thoroughly read through all contracts and agreements before committing to a particular provider. Keeping an eye out for any fine print or clauses that could lead to unexpected expenses can help ensure you make an informed decision about which home security solution is right for you.
Can ADT or its competitors integrate with other smart home devices beyond just smart locks and video doorbells?
When it comes to smart home integration, compatibility with third-party devices is crucial. You want a home security solution that seamlessly integrates with your existing smart home ecosystem.
While some companies may only offer integration with smart locks and video doorbells, others may have a wider range of compatible devices, such as thermostats, lighting systems, and voice assistants. It's important to research and compare the compatibility options offered by different companies before making a decision on which one to go with.
Overall, having a comprehensive smart home integration system can greatly enhance the convenience and effectiveness of your home security solution.
Are there any specific customer demographics that tend to prefer ADT over its competitors, or vice versa?
Regarding customer preferences, market share distribution plays an important role in understanding which home security solution is preferred by certain demographics. ADT has been a leader in the industry for many years and has a strong brand reputation, which tends to appeal to older homeowners who value reliability and experience.
On the other hand, newer competitors like Ring and SimpliSafe have gained popularity among younger generations who prioritize affordability and convenience. However, it's important to note that customer preferences can vary greatly based on individual needs and priorities. Ultimately, it's up to each consumer to weigh the pros and cons of each option before making a decision.
Conclusion
Overall, when it comes to home security solutions, ADT stands out as a reputable and reliable choice. Their full-home security systems offer a range of features that cater to different needs, from basic monitoring to advanced automation options. Additionally, their smart locks and video doorbells provide an extra layer of protection for your home.
Compared to competitors such as SimpliSafe and Vivint, ADT offers a more comprehensive set of features at a slightly higher price point. However, this investment is worth it for many customers who value the peace of mind that ADT's long-standing reputation provides.
According to a recent study by J.D. Power, ADT ranks highest in customer satisfaction among professionally installed home security systems. This statistic highlights the importance of having top-notch equipment and technology and providing exceptional customer service.
Choosing a home security provider is all about finding the right fit for your specific needs and priorities. While ADT may not be the most affordable option on the market, its track record speaks for itself in terms of reliability and customer satisfaction. For those looking for an all-encompassing solution with top-of-the-line technology and support, ADT may be the perfect match.