Table of Contents
Introduction to Buying Home Security Signs
Protecting your home and property is a top priority for many homeowners. One of the most effective ways to deter burglars and intruders is by prominently displaying home security system signs.
These signs act as a clear warning to potential criminals that your property is protected by a professional security system, which can significantly reduce the likelihood of a break-in. But where can you buy these signs? And what should you look for when shopping for them?
In this guide, we'll explore the various options available for purchasing home security system signs and provide tips on how to choose the right signs for your property.
Tips on choosing the right signs
There are many retailers and manufacturers that sell home security system signs, both online and in brick-and-mortar stores. These signs range in price and quality, so it's important to do your research before making a purchase.
Some signs are made with high-quality materials and feature clear, bold lettering that is easy to read from a distance. Others may be cheaper but made with flimsy materials that will fade or wear quickly.
It's important to find a balance between affordability and quality so that your security signs are both cost-effective and long-lasting.
In addition to considering the materials and construction of the signs, it's also important to think about the placement of the signs. To be most effective, home security system signs should be placed in visible areas, such as the front yard or near entry points to your property.
By positioning the signs prominently, potential burglars will be sure to see them and may choose to target a different property.
Where to buy home security signs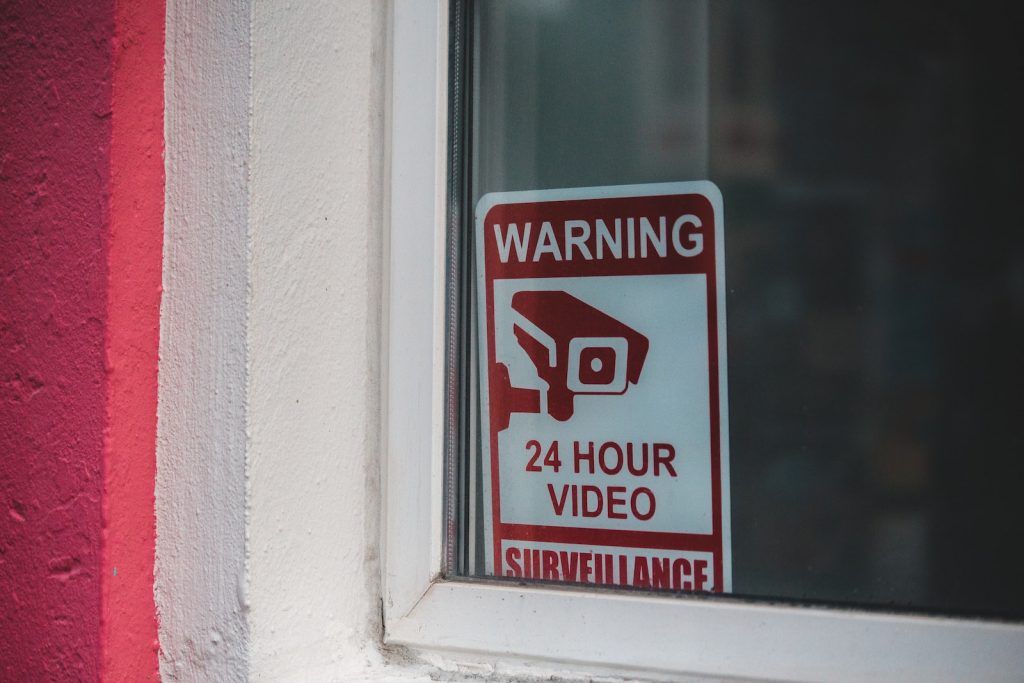 Amazon
Amazon has a wide variety of security signs to choose from – everything from fancy engravings to simple placards. Additionally, by purchasing from Amazon you can rest assured that you're getting quality products from certified manufacturers.
Not only that but you can also take advantage of their fast delivery times and excellent customer service should any unexpected issues arise.
Lowe's
Lowe's is one of the leading retailers of home security solutions and products, offering a wide variety of options for keeping your family safe and secure. Among the most popular items are home security signs that help to protect your property by deterring suspicious activity.
These signs feature concise warnings such as "Protected By Security System" and "No Trespassing," making it clear to visitors that your home should not be disturbed. The signs come in a variety of colors and styles, so you can select one that best fits your unique aesthetic.
The Home Depot
At The Home Depot, customers can find a wide range of home security signs that are easy to install, durable, and sure to deter unwanted visitors. All signs are made from weather-resistant materials, meaning they will hold up over time while still giving a professional look.
With products suited to any level of security needs, shoppers can trust The Home Depot for reliable home security signs at unbeatable prices.
eBay
eBay offers an extensive selection of home security signs in a variety of sizes and styles. Whether you are looking for something subtle or striking, eBay is a great place to find more affordable options that won't break the bank.
Walmart
Walmart is another great option for those looking to buy home security signs. Walmart has a wide selection of options available, including waterproof signs that are perfect for outdoor use.
There are various styles and colors available, so homeowners can find the perfect sign for their homes. Walmart also offers competitive prices and even same-day delivery services in some areas.
Alarm Grid
Alarm Grid offers a variety of options, such as window decals and yard signs, that announce the presence of an alarm system on the property. Signs can provide an instant deterrent for would-be thieves, and may even give occupants the peace of mind of knowing their home is adequately protected.
Alarm Grid's signs are printed with ink that lasts up to five years in extreme weather conditions, so homeowners don't have to worry about replacing their signs every few months.
Ring
Ring is a well-known name in home security, and its selection of signs is no different. Customers can find outdoor warning signs that are designed to last through rain, snow, or sun.
The signs make it clear to visitors that the property is under Ring's surveillance and monitored for any suspicious activity. Plus, the company offers affordable and easy-to-install options that can be found both online and in stores.
Conclusion
Home security system signs are an effective way to deter burglars and intruders from targeting your property. By doing your research and carefully considering factors such as quality, placement, and affordability, you can find the perfect signs for your home and enjoy peace of mind knowing that your property is well-protected.
There are a number of different places to buy home security signs. Whether you choose to shop at Amazon, Lowe's, The Home Depot, eBay, Walmart, or Ring, you are sure to find a sign that meets your security needs at a competitive price.
Remember to position your signs prominently and in visible areas, and you'll be sure to send a clear warning to potential criminals that your property is monitored and safeguarded. Having home security signs can give you that extra layer of protection for your home, so take the time to find the right one for you.
Frequently Asked Questions
What are home security system signs?
Home security system signs are physical signs that are designed to deter intruders and alert people of the presence of a home security system.
What do home security system signs look like?
Home security system signs typically feature a visible warning such as "24-hour monitored security" or "CCTV in operation." Many signs also have a graphic depicting a security camera or an alarm system.
The signs are usually made of durable plastic and feature an eye-catching design, often with bold colors such as yellow or red. Most home security system signs also have high visibility during the day, using reflective materials to make them more visible at night.
Why do I need a home security system sign?
Security signs are an important part of a home security system. They act as a strong visual deterrent to potential intruders, alerting them that the property is monitored and protected by a home security system.
Where can I buy home security system signs?
You can purchase home security system signs from a variety of retailers including Amazon, Lowe's, The Home Depot, eBay, Walmart, and Ring. Each retailer offers different sizes and styles to fit nearly any design aesthetic.
How much do home security system signs cost?
The cost of home security system signs can vary greatly depending on the size, style, and material used. Generally speaking, you can expect to pay anywhere from $11.98 – $50 per sign.
Do I need more than one home security system sign?
It's a good idea to have multiple home security system signs on your property. Having more than one sign increases visibility and can further deter potential intruders. If you want to maximize the effectiveness of your signs, place them in strategic locations around the perimeter of your home or business.